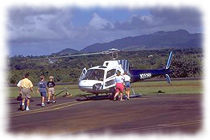 Helicopter Rides
Air Kauai Helicopter Tours - if you're planning on visiting Kaua'i, or just want to know a little more about our Island home, and our tours of Kaua'i, surf on!
http://www.airkauai.com

Jack Harter Helicopters - originator of helicopter tours in Hawaii. Narrated tours of Kauai's scenic wonders.
http://www.helicopters-kauai.com

Safari Helicopters - adventure with Safari Helicopter Tours on enchanting Kauai...or the ever-changing Big Island of Hawaii. Book your helicopter tour direct with us online and save on our premium helicopter tours.
http://www.safariair.com

Will Squyres Helicopter Service - in our Tours in Paradise section, you'll get an idea of what you can expect to experience from the Squyres ASTAR 350 BA helicopter.
http://www.helicopters-hawaii.com/

Garden Tours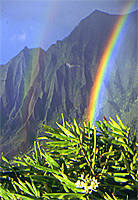 Limahuli Garden
Backdropped by towering peaks sculpted by eons of wind and rain, tours of these lush 17 acres of garden and rain forest offer visions of natural beauty and intriguing Hawaiian culture. Walk the land where taro still thrives on ancient lava rock terraces. Learn about native plants of the Islands, the plants brought by the Polynesians, and introduced species invading Hawaii's natural habitats.
Days: Tuesday through Friday, and Sunday
Hours: 9:30 a.m. through 4 p.m.
Duration: Guided tour 2 to 2-1/2 hours. Self-guided tours 1 to 1-1/2 hours.
Distance: 3/4-mile walk on a loop trail, steep in some areas.
Cost: $15 per person for guided tour. $10 per person for self-guided tour.
Attire: Walking shoes; umbrellas are provided.
Reservations are required for guided tours only.
Phone: (808) 826-1053


Allerton Garden
adjacent to McBryde Garden
Enter the gates of this once-private estate and wind past cliff top views of a protected bay below. Stroll through outdoor "rooms," beside rippling pools and fountains and dramatic sculpture. Drink in the sights, sounds, smells, and textures of fascinating plants, vibrant flowers and flowing water. See species of plants that are extinct in the wild thriving in the NTBG nursery. Ask about our Japanese tours.
Days: Tuesday through Saturday
Hours: 9 a.m., 10 a.m., 1 p.m., 2 p.m.
Duration: Approx. 2-1/2 hours
Distance: Combination of transportation by vehicle and one-mile walk at an easy pace.
Cost: $30 per person; tours guided.
Attire: Walking shoes, long pants and/or mosquito repellent.
Reservations: Required. Tours depart from the Visitor Center across from Spouting Horn.
Phone: (808) 742-2623


McBryde Garden
adjacent to Allerton Garden
Experience the natural and cultural history of McBryde and the Allerton gardens. Observe the nesting place of the endangered green sea turtle, the Allerton estate home and Queen Emma's Cottage; view the many species of palms in the Allerton Palmetum; and stroll through McBryde Garden's Bamboo Bridge section, a worldwide collection of fascinating plants that is "tropical" at its best.
Days: Monday
Hours: 9 a.m. and 1 p.m.
Duration: Approx. 2-1/2 hours
Distance: Combination of transportation by vehicle and one-mile walk, moderate pace.
Cost: $30 per person; tours guided.
Attire: Walking shoes, long pants and /or mosquito repellent.
Reservations: Required. Tours depart from the Visitor Center across from Spouting Horn.
Phone: (808) 742-2623


Snorkeling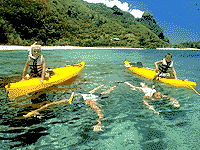 Hanalei Sea Tours
P.O. Box 1437
Hanalei, HI 96714 808-826-7254
Whale Watching
Snorkeling

Kauaifun
Lihue, HI 808-639-4646
Snorkeling, Fishing
kauaifun@gte.net

Na Pali Adventures
P.O. Box 1017
Hanalei, HI 96714 808-826-6804
Whale Watching
Snorkeling

Whale Watching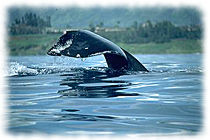 Hanalei Sea Tours
P.O. Box 1437
Hanalei, HI 96714 808-826-7254
Whale Watching
Snorkeling

Na Pali Adventures
P.O. Box 1017
Hanalei, HI 96714 808-826-6804
Whale Watching
Snorkeling
Temperature and Climate Zones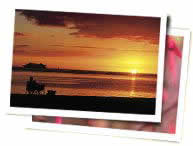 Weather on Kauai is very consistent, with only minor changes in temperature throughout the year. This is due to year-round warm sea surface temperatures, which keep the overlying atmosphere warm as well. In practical terms, there are only 2 seasons: the summer months (called Kau in Hawaiian) that extend from May to October and the winter months (Ho'oilo) that run from November to April. The average daytime summer temperature at sea level is 85 degrees F. (29.4 C) while the average daytime winter temperature is 78 degrees (25.6 C). Temperatures at night are approximately 10 degrees F. lower.

The island are an incredible collection of many diverse micro-environments, each with its own unique weather, plants and animals. As a result of the shielding effect of volcanic mountains and the differences in weather found at various elevations, there are as many different climate zones here as exist along the entire coast stretching from Alaska to Costa Rica. For the full impact of this, visitors need only explore the islands by car or helicopter and they�ll see the beauty of tropical rain forests, cool alpine regions, stony deserts and sunny beaches - all within the span of just a few short miles.

Rainfall and Storms



Through most of the year, Hawaiian weather patterns are affected primarily by high-pressure zones in the north Pacific that pump cool, moist trade winds down onto the island's northeastern slopes. This holds true for most of the summer and approximately half of the time in the winter. These winds are forced up-slope by the mountain heights where their moisture condenses into clouds that produce rain. Most of the rain falls in the mountains and valleys on the windward (northeastern) side of the islands. It is this weather phenomenon that creates the rich tropical environment for Hawaii�s flowers and verdant greens. The wettest months are from November - March, but winter rains do not generally disrupt vacation plans, since the weather is very localized. This means that if it is raining where you are, there is almost always a sunny spot to be found around the coast.

The action of trade winds here means that there is always a cooling breeze. The strength of this wind builds as the heat of the day rises and reaches a peak in the afternoon, only to diminish in the evening and start again the next day. Several times during the year the trade winds will stop completely and the wind will switch around to come out of the south or west, bringing stormy or hot sticky weather. Islanders sometimes call this "Kona" weather, because kona means leeward or South, and this points to the direction from which these weather systems arrive. Stormy weather comes to the islands, primarily in the winter and sometimes lingers for several days. Severe storms, however, are not a common occurrence.

Water and Surf Conditions



Hawaii's near-shore water temperatures remain comfortable throughoutthe year. The average water temperature is 74 degrees F. (23.3 C), with a summer high of 80 degrees F. (26.7 C). Wave action varies dramatically between winter and summer, and between island coasts. Summer waters are typically very gentle on all beaches. This changes in the winter on many north-facing beaches, as storms far out into the Pacific drive ocean swells towards the islands, building large breaking waves.

As with island rains, wave conditions are often very localized, so if there is too much surf on your beach, you can usually find calmer water at a more sheltered beach. Strong currents can make any beach unsafe at any time during the year, but this is particularly true in the winter. When in doubt, simply ask your hotel staff or a lifeguard for recommendations and also look for warning flags and posted beach conditions.

Hawaii's Mountains and Volcanoes

Many visitors are drawn to the natural beauty found in higher elevations such as Kokee on Kauai, or Haleakala on Maui, or Kilauea on the Big Island. To prepare for the trip, bring long pants and several layers of cool weather clothing because the temperature in the higher locations drops 3.5 degrees for every 1,000 feet above sea level that you climb. For example, the summit of Haleakala at an elevation of 10,023 feet can be as much as 30 degrees F. cooler than resort areas on the coast.

Because these peaks rise through the earth's atmosphere, there is less protection from the sun's powerful burning rays. This burning effect can be easily masked by the cool temperatures on the mountain, so be sure to use sun block liberally, and bring a hat and sunglasses.
Courtesy of GoHawaii.com


Hawaiian Facts!
The Hawaiian Islands are the Earth's most isolated parcels of land lying in the middle of the North Pacific Ocean some 2400 miles from both the nearest continental land mass, North America, and other islands of Polynesia in the South Pacific Ocean.

Movies made in Kauai
South Pacific, Thorn Birds, Raiders of the Lost Ark, Throw Mama From The Train, Outbreak, 6 Days/7 Nights, Jurassic Park, The Lost World: Jurassic Park, Honeymoon in Vegas, Last Flight of Noah's Ark, Uncommon Valor, King Kong, Blue Hawaii, George of the Jungle, Mighty Joe Young, Hook

Hawaiian Facts
Kauai is geologically the most mature of the main Hawaiian Islands with extensive development of broad, lush erosional valleys and coastal features such as fringing coral/algal reefs and sandy beaches. Spectacular Waimea Canyon, at over 2500 feet deep, is Hawaii's largest erosional valley. Nearly 50% of Kauai's 111 miles of coastline are lined with beautiful beaches, derived mainly from wave erosion of reef producing coral and algae. Only about one-third of Oahu's coastline consists of beaches